Parent Teacher Interviews 2018.doc
Dear Millstream Families,
Starting on November 16th at 9:00 am we will be opening up our booking system for the Parent-Teacher Interviews and Student Led Conferences until Wednesday, November 21st at 10:00 pm.
Interviews will be held on Thursday, November 22nd from 1:00 pm to 7:00 pm. Teachers will have a scheduled dinner break from 4:00 to 5:00pm.
1. Go to: https://millstream.schoolappointments.com/
2. Register under login
3. Follow registration prompts
4. Book the appointment
Thank you for taking the time to meet with your children and their teachers.
Please call the office if you need assistance with the online booking.
Sincerely,
Frances Krusekopf
Principal
Jess Dexter, with 19 years teaching experience has come from Vancouver to work with us this week, teaching Hip Hop (Old School and New Style) and other street styles of dance.
Jess encourages the students to not only practice the moves they have learned (as well as have spontaneous dance parties at home or with their friends,) but to also be a teacher themselves…By teaching the movements to someone else, the moves will become easier for them to remember as well as proficiency will be achieved faster!
All students in the school have been put into 4 groups and are practicing a routine from Tuesday to Friday. On Friday afternoon (at 1:05pm), families are invited to the gym see a showcase of the Hip Hop skills the students have learned over the previous four days.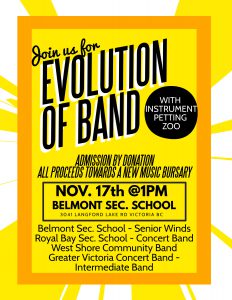 On behalf of the Belmont Music Department, I would like to invite you to our annual "Evolution of Band" Concert on Saturday, November 17 at 1 pm, 
with admission by donation. The performance will be in the Belmont Gymnasium.

This family oriented event will feature the following ensembles:

-          Belmont Sec. School – Senior Winds

-          Royal Bay Sec. School – Concert Band 9/10

-          Royal Bay Sec. School – Concert Band 11/12

-          West Shore Community Band

-          Greater Victoria Concert Band – Intermediate Band

This celebration of all things "band" is to bring together ensembles to show our current students that there is Music after High School!

All proceeds from this performance will be going towards a start-up fund for a music bursary for Middle School students.  Once this bursary is in place, we will be able to offer it to SD 62 Middle School Music Students who would like to take lessons or attend workshops, but aren't able to afford it.  We have been 
working with the Royal Canadian Legion Branch No. 91 (Prince Edward) to help establish this fund.

This concert will also feature an "Instrument Petting Zoo", put on by Tapestry Music.  This "zoo" is open to everyone who's always wanted to play an 
instrument! 

We really hope to see you all there for our performance.   

Thanks again!
Sincerely,

Mandart Chan
Music Director / Leadership
Belmont Secondary School
mchan@sd62.bc.ca
250-478-5501 ext 4117

President
BC Music Educators' Association
Parents, friends and family members are invited to join us for our Remembrance Day Assembly on Friday, November 9th at 10:45 AM.
The Strong Start Center will be closed on the following days in November;
Monday November 5th
Sorry for any inconvenience.
WHEN: Tuesday, November 6th from 9:00 am to 2:30 pm
(Please arrive by 8:45am for sign in and to complete forms)
WHERE: Westshore Child and Youth Mental Health (345 Wale Road, 2nd floor)
Please see the poster below for more information:
Program Invite Poster – Chill Skills
Our StrongStart Centre will be closed on Friday, October 26th.  StrongStart participants are meeting up for a field trip at Galey Farms.  Have a fun outing!
Our school Halloween Dance is tomorrow evening (Thursday) from 6 to 7:30 PM.  Many thanks to our parent volunteers for organizing this fantastic event.  We look forward to seeing everyone tomorrow night.  Please remember that students need to be accompanied by a parent(s) to attend
Dear Parents/Guardians,
Halloween is nearly here! Please take a moment to read the following costume guidelines. Teachers will go through these points with students and if you could also do the same with your child, it would be very much appreciated.
Costume guidelines:
Full face makeup is permitted as long as it isn't too scary or offensive.
No imitation weapons of any kind.
Half masks such as masquerade masks are permitted. No full masks please.
Friendly clowns, jesters, mimes etc. are permitted. No scary clowns please.
These guidelines are in place so that students can be easily identified. Please use your discretion when sending your child to school in an appropriate costume. We do our best to create comfortable and safe environments in our schools and we thank you for helping us to do so. Halloween is a very fun time of year and we want to continue to be able to offer that to our students in the years to come.
Thank you for your continued support and diligence in keeping our students safe.
Sincerely,
Scott Stinson
Superintendent of Schools
Sooke School District #62